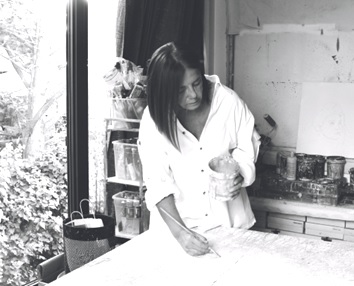 BIOGRAPHY
Rengin Saltık (1958) is a contemporary artist residing and working in Ankara, Turkey.
She received her bachelor's degree from the Middle East Technical University, Faculty of Architecture, Department of City and Regional Planning in Turkey and her master's degree in the same field from the Ohio State University, in USA. She continued her graduate studies in Ankara, Bilkent University, Faculty of Fine Arts, Department of Painting as a special student of Halil Akdeniz master's class.
Rengin Saltık's works are in series which are based on specific themes inspired by literature and contemporary readings. Untill now she has worked on several different themes; each time starting with reference to the selected theme, then building her work from there to compose a whole series.
She is interested in both the content and the process of painting; she applies several overlapping layers of color and experiments with various texture techniques. She allows the theme/subject matter to subtly determine her painting process, but always being in line with her own expressive visual language. Her canvases are large, colors are mat and austere, brush strokes are free, and figures are expressionist and abstract. Frequently, she uses typography and symbolism to convey her story. She tries to achieve simpler but stronger expressions of her thoughts.
Her canvases have their own id numbers, indicating the year and the number of the painting created in that year. 
Until now, she had nineteen solo and took part in nine group exhibitions in Ankara, İstanbul and İzmir.
A large number of her works are in several private collections.
Solo Exhibitions:
2020 / Gallery Siyah Beyaz /Ankara
2012 / M 1886 Art Projects / Ankara
2010 / Milli Reasürans Art Gallery / İstanbul
2009 / Kare Art Gallery / İstanbul
2008 / A Art Gallery / Astoria  / İstanbul
2008 / A Art Gallery / Metro City Art Hall / İstanbul
2007 / Odakule Art Gallery / İstanbul  / - October
2007 / Odakule Art Gallery / İstanbul /  - September
2007 / Odakule Art Gallery / İstanbul /  -  May
2006 / Municipality of Çankaya / Center of Contemporary Arts / Ankara
2004 / A Art Gallery / İstanbul
2003 / İstanbul Riding Club / İstanbul
2003 / Gallery Artist – Çukurcuma / İstanbul
2002 / İBB / Taksim Art Gallery / İstanbul
2001 / Milli Piyango Art Gallery / Ankara
1999 / Turkuvaz Art Gallery / Ankara
1999 / İzmir State Museum of Painting and Sculpture / İzmir
1997 / Turkuvaz Art Gallery / Ankara
1995 / Vakıfbank Art Gallery / Ankara
Group Exhibitions:
2014 / M 1886  Art Projects / Ankara
2003 / A Art Gallery / İstanbul
2002 / Bilkent University / Faculty of Fine Arts / Gallery / Ankara
2000 / Gallery Sanatyapım / Ankara
1998 / Piano & Piano Art Gallery / Ankara
1998 / Tema Foundation / Yalova
1998 / METU Culture and Congress Center / Ankara
1996 / IMKB Art Gallery / İstanbul
1996 / Museum of Sea / İstanbul
Warning
: imagejpeg(C:\xampp\htdocs\renginsaltik.com//images/th/B1_th.jpg): failed to open stream: Permission denied in
C:\xampp\htdocs\renginsaltik.com\administrator\components\com_slideshowck\helpers\helper.php
on line
239
Warning
: imagejpeg(C:\xampp\htdocs\renginsaltik.com//images/th/B2_th.jpg): failed to open stream: Permission denied in
C:\xampp\htdocs\renginsaltik.com\administrator\components\com_slideshowck\helpers\helper.php
on line
239
Warning
: imagejpeg(C:\xampp\htdocs\renginsaltik.com//images/th/B3_th.jpg): failed to open stream: Permission denied in
C:\xampp\htdocs\renginsaltik.com\administrator\components\com_slideshowck\helpers\helper.php
on line
239
Warning
: imagejpeg(C:\xampp\htdocs\renginsaltik.com//images/th/B4_th.jpg): failed to open stream: Permission denied in
C:\xampp\htdocs\renginsaltik.com\administrator\components\com_slideshowck\helpers\helper.php
on line
239
Warning
: imagejpeg(C:\xampp\htdocs\renginsaltik.com//images/th/B5_th.jpg): failed to open stream: Permission denied in
C:\xampp\htdocs\renginsaltik.com\administrator\components\com_slideshowck\helpers\helper.php
on line
239
Warning
: imagejpeg(C:\xampp\htdocs\renginsaltik.com//images/th/B6_th.jpg): failed to open stream: Permission denied in
C:\xampp\htdocs\renginsaltik.com\administrator\components\com_slideshowck\helpers\helper.php
on line
239
Warning
: imagejpeg(C:\xampp\htdocs\renginsaltik.com//images/th/B7_th.jpg): failed to open stream: Permission denied in
C:\xampp\htdocs\renginsaltik.com\administrator\components\com_slideshowck\helpers\helper.php
on line
239
Warning
: imagejpeg(C:\xampp\htdocs\renginsaltik.com//images/th/B8_th.jpg): failed to open stream: Permission denied in
C:\xampp\htdocs\renginsaltik.com\administrator\components\com_slideshowck\helpers\helper.php
on line
239